Superflat® Concrete
VNA Griding / Laser Milling
Today's logistical warehouse, operating at high capacity with narrow aisles, requires a floor with near-perfect flatness. Superflat® Concrete specializes in Very Narrow Aisle (VNA) grinding to perfect your floor surface texture, whatever your intended use.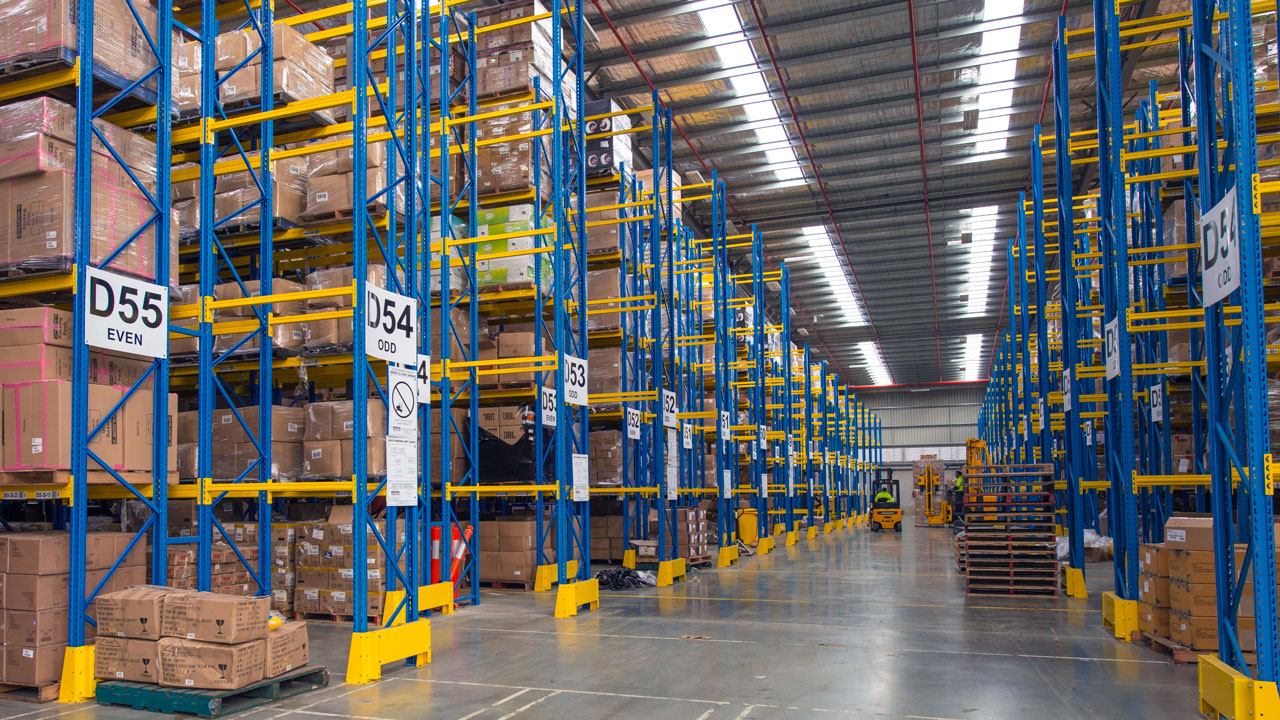 Why do I need an expert in VNA grinding?
For warehouses where space is at a premium, a Very Narrow Aisle (VNA) racking system that incorporates Adjustable Pallet Racking (APR) can provide storage for a higher concentration of pallets by reducing the existing aisle width. Warehouses with a wide aisle forklift might typically have aisles that are 12 to 13 feet wide; a narrow aisle would typically measure 8 to 10 feet wide, and a very narrow aisle would typically measure 6 feet or less. Warehouses operating at high capacity with very narrow lanes (VNA) need a floor with near-perfect flatness. A trilateral trolley, for example, cannot move correctly if it is frequently shaken by the irregularity of the floor. In this and similar situations, a traditional industrial floor will cause problems, as the unevenness of the floor can result in serious safety issues, slow-downs or interruptions in day-to-day operations, and, in some cases, a complete halt.
During the construction of many large facilities, floors are often placed and finished in pours of 50,000 to 80,000 square feet or more with laser screeds and large riding trowels with pans. The surface is remediated to a specific tolerance by grinding the material handling equipment wheel paths only or the width of the aisles between the racks to increase throughput (material handling efficiency). Both options depend on the owners' specified tolerance.
When we begin to talk about very narrow aisles (VNA), we use a different identifier to represent superflat floor specifications—known as the ACI F-min numbering system. This system refers only to defined traffic floors. Ff/ Fl and F-min are altogether different measuring systems. There is no direct correlation between the two, and therefore no corresponding index for comparison. A single F-number, referred to as "F-min", is therefore used to define the worst acceptable flatness and levelness conditions in a VNA aisle, and this F-min value is assigned based on the expected lift truck and rack height.
The ACI F min table, and Table 1.1 taken from ACI 360R-10, Guide to Design of Slabs-On-Ground, gives the F-min number based on Classification and Height of racking.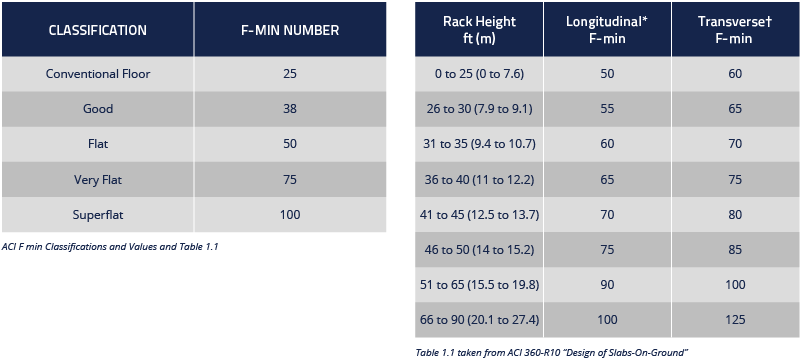 For example, an Ff 50/Fl 35 floor is specified in a building that sits empty for six months or more before it is occupied. Depending on how the facility is to be laid out by the new tenant/owner and depending on the amount of slab curling and settling that occurred while it was vacant, it will likely require remediation to meet F-min tolerances of at least F-min 50 to F-min 100 or higher if required by forklift manufacturers' recommendations or the architect/engineers' tolerances. This is where Superflat® comes in.
Solving complex very narrow aisle (VNA) issues is our wheelhouse. Superflat® Concrete will level your floors with complete accuracy, so that you can continue operations uninterrupted and take advantage of the many benefits of having a superflat floor, such as:
Significantly improve your space utilization (more pallets in less space)
Reduce your cost per square foot or cost per pallet stored
Eliminate the need for offsite storage
Avoid costly building expansions
Gain direct access to all pallet locations
Decrease pallet rack damage
Improve forklift productivity
The Superflat® team specializes in Very Narrow Aisle (VNA) concrete grinding using one of our precise Superflat® Laser Grinders. This process quickly and quietly brings your floor flatness levels up to standard, which reduces your costs and increases your warehouse productivity.  Unlike many others, Superflat® works with Ff/Fl, DEN Standard, or even competitors' proprietary measuring systems.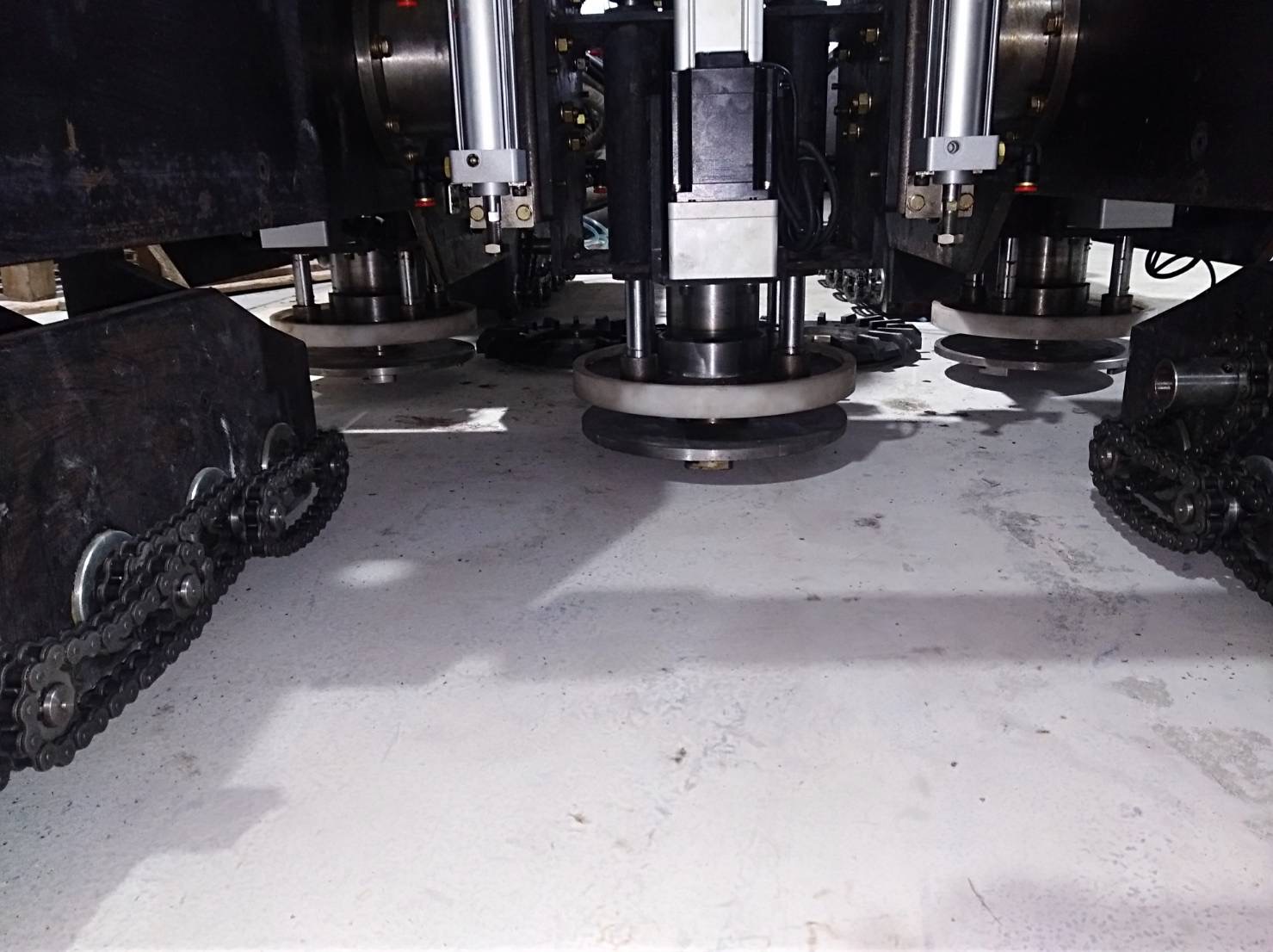 Why do I need a Superflat floor?
In today's world, robotics and complex logistics systems require superflat floors. They can have a major impact on the maintenance required of equipment and rapid picking systems.  A superflat floor will be a significant indicator of how fast forklifts and other equipment can navigate a given facility. The floor will also minimize the risk of damage to racking and building components. In addition, they positively impact safety within operations by reducing damage, slips and falls, and trip hazards. 
What sets Superflat® Concrete apart from others?
Superflat®'s team of professionals utilizes the latest technology in laser and GPS-guided grinding equipment along with state-of-the-art cutting tool designs to complete the most precise work while reducing labor and eliminating human error on each job—in a timely manner and within budget.
Do I have to grind the entire floor?
No. We work with 3D modeling to insure we remove the least amount possible from the floor surface to achieve the F-min required for each job.  This saves time and labor and protects your budget from unnecessary costs.
Who are some of Superflat®'s customers?
Superflat works with hundreds of customers on nearly any size job… large or small.  Our team has completed millions of square feet of precision work for companies such as Amazon, AutoStore, KPI, Target, Ryan Companies, Whiting Turner, Baker, and Lithko—just to name just a few!  Give us a call to help you complete your next project on time and on budget!